Dear Visitors,
It is with heavy heart that we announce that today, Friday, October 13, we are not in a position to open the doors of Tomorrowland Brasil. Due to the extreme rain of yesterday, the festival areas, parking lots and access roads are badly damaged and need to be restored properly.
Despite the dry weather now, more time will be needed to ensure that we have the necessary conditions to receive our visitors safely, as this is our highest priority.
Tomorrow, Saturday, October 14, Tomorrowland Brasil opens its doors again.
For DreamVille festival-goers, everyone is welcome to stay and we're opening The Gathering Stage with an alternative program today.
Refund information will be released soon.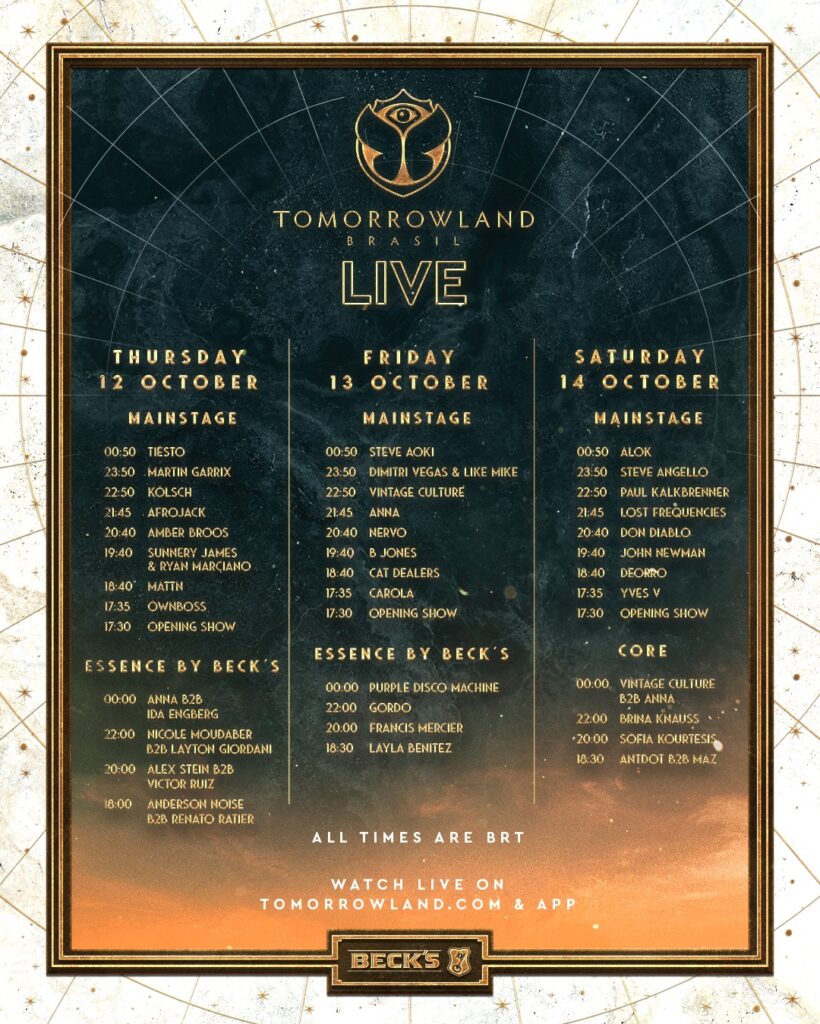 Reflection of Love, Tomorrowland Brazil starts Thursday. Watch the LIVE FEED at Sunset!
Tomorrowland is a highly anticipated event that brings together people from all over the world to experience music, creativity, and love. The festival happens every year, and this year it is back in Brazil. The atmosphere is electric, with an array of talented DJs, impressive stage designs, and light shows that will leave you in awe.
At Tomorrowland Brazil, you can expect to dance the night away under the stars with thousands of other passionate music lovers. As you move to the beat, you will feel a sense of unity and positivity that is hard to describe. The event is not just about the music, but about the community that comes together to share in the experience.
This year's festival promises to be an unforgettable experience, full of reflection of love amongst all attendees. With its breathtaking location, amazing line-up, and friendly atmosphere, you won't want to miss it.
Join us for the time of your life at Tomorrowland Brazil!
Let's take a look down memory lane. Relive the most iconic moments of Tomorrowland Brazil 2015 & 2016 and prepare for the experience of a lifetime.
Enter the Secret Kingdom of Melodia and be overwhelmed with true magic… Over 180,000 People of Tomorrow witnessed epic performances and massive fireworks. On Sunday the National Orchestra of Belgium brought "The Symphony of Unity", A live mix between popular electronic tracks and classical music. In May 2015, the first edition of Tomorrowland Brasil took place in Itu, Sao Paulo, Brazil. Later in 2015, the "Key To Happiness" MainStage traveled to Chattahoochee Hills (USA) for the third edition of TomorrowWorld.
We believe…
In a commitment to create a reality that relates positively with Mother Nature and contributes to the well-being of the next generations. Let's engage with each other and do something good today, for which we will be grateful for tomorrow.
Tomorrowland Live The TOP charts.
Full Sets EVERY SATURDAY by your favorite artist and performace throughout the years at Tomorrowland!